Requesting a new feature
Missing functionality in Copy Handler?
Have you just moved from another software to Copy Handler and there is just this one feature missing? Have you been using Copy Handler for years and you know exactly what will make your life easier? Or maybe there is something that prevents you from using Copy Handler?
If you are in any of those situations, you can either implement the missing feature yourself (if you have the knowledge) or request a feature to be implemented.
What to include in the request?
If you would like to request a feature, please consider providing the following information:
How would you like Copy Handler to behave after implementation of this feature? Be detailed. Include pictures if that will make easier to understand.
What is your usage scenario? Sometimes it is much easier to understand the need for a feature when I know how do you use the software.
How to request a feature?
Copy Handler uses an issue management system located at https://dev.copyhandler.com (powered by Jira from Atlassian). To create a new feature request, you need to have an account there. Please create it if you don't have it already.
After creating an account, please press "Create" button on the Dashboards tab:

The following form should appear, where you can enter the details of your request (change Issue Type to Feature Request if needed):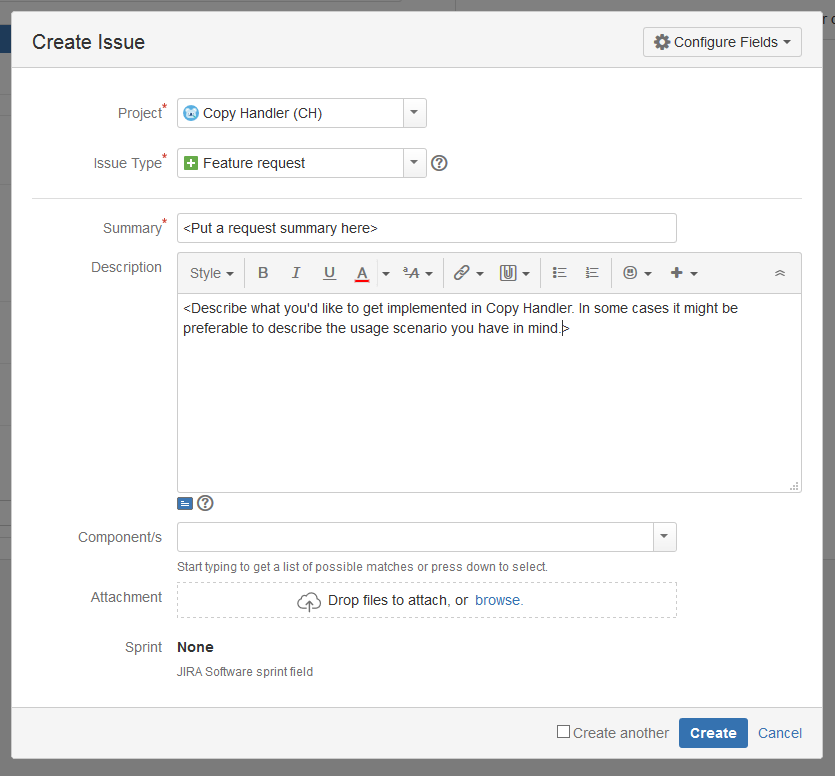 After filling in the required information press "Create" to open the feature request.